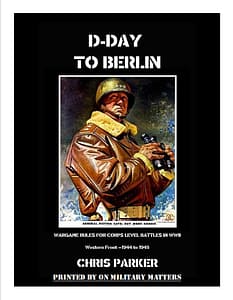 Today I received an email from a customer who took advantage of my 50% off sale. He ordered up a copy of D-Day to Berlin and the 6th Panzer Armee game module.
Due to a new shopping cart program I has just updated a lot of my sales links weren't working so I was handling them by hand.
He made my Christmas complete, thank you for indulging this post.
Here is what he wrote.
---
Chris,

When I tried to download the rules, it said Go To Shop. I tried and nothing happened. I went back to the download page and pressed the rules, I went to GO To Shop…nothing happened. I went back a 3rd time, tried to download the rules…and it said I had reached the limit? I don't know what happened, but don't have the rules.

The 6th Panzer order downloaded without issue.

Help.

Thanks,

Larry
---
Dear Larry

I converted to a new check out program, well was forced to and it has failed miserably.

I have redone all the links and am posting them here for you.

Please let me know if these do or don't work.

Merry Christmas

Chris
---
Chris,

Thanks, it worked like a charm! I remember contacting you earlier this year and was looking forward to this release. This is so much superior to Rommel, plays faster, and doesn't require tons of dice and bookkeeping. Unfortunately, Covid crept into our family's lives and put everything on hold. Except for some unexpected consequences of the vax, life is slowly returning to normal.

This is a great Christmas present. The rules are beautifully laid out, examples great and I looking forward to getting back into the swing of things. Thanks again for everything!

Merry Christmas and Happy New Year,

Larry

P.S. I found your Day of Battle rules in some past issues of MWAM (Miniature Associations News Letter) and The Courier. They were awesome (and still are)! This shows what a professional rule writer and gamer you are. Thanks for many years of great reading. Larry
Hits: 123