Yes Square man, dig it -like Maynard G Krebs on The many loves of Dobie Gillis
Who most people are saying. Google it Baby.
So anyway yes I have decided a game of this size and scope needed to move from measuring with rulers to squares. I am following the path of Rommel by Sam Mustafa, Poor Bloody Infantry by Peter Pig and many others.
There is a new download of the rules available here for your reading pleasure.
Download Free Beta Version Here >>>>
Stacking rules will allow up to 4 battalions to be in a single square. Distance shooting has been eliminated except for Artillery Battalions.
This has really sped up the game. As a test I set up a corps on corps game with 3 divisions of Americans against Germans. Now granted I know the rules but I played a 2 day game in three hours. It was down to the wire as well due to the random first move Initiative check at the beginning of each game turn and of course the Rally rules.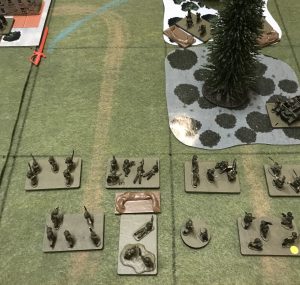 More later
Chris
Hits: 98