Description
Six Panzer Armee Scenario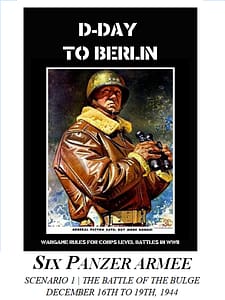 Chris Parker Games "6th Panzer Armee" is a two or more player scenario for "D-Day to Berlin" depicting the northern shoulder of Hitler's surprise attack "Wacht am Rhein". This was located in the Ardennes in December,1944, commonly known as the Battle of the Bulge.
In this scenario the area of concentration is roughly from Monschau to just north of St. Vith, from December 16th to the 19th, 1944 when the German attack still had a chance to cross the Meuse.
This scenario includes
Customized Map
Order of Battle for both Allied and German forces
Special rules for the scenario
New rules for D-Day to Berlin
View sample page >>>
---
These rules are downloadable PDF only from this website.
On your order completion you will receive a link via your e-mail within 8 hours where you can download the file.
---
Hits: 258