Introducing The "Knights Round Table"
Being a blog on wargaming in general by Chris Parker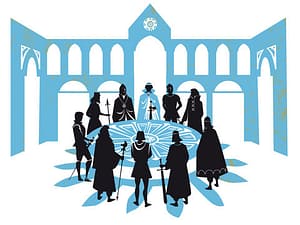 ---
Video Zoom Game Report and D-Day to Berlin Scenario Release
On May 21, 22 and 23, 2021 my game club MHWA (the Maine Historical Wargamers Association) held their second Virtual Huzzah game convention. This convention in the past has been held every spring about this time at the Double Tree Hotel in Portland Maine. With Covid-19 however this years was again canceled.
Fingers crossed the club has decided to extend next years convention to four days. Yowza that is going to be fun.
Now as a newbie to Zoom and online gaming I was quite nervous and uneducated. This may seem a little bit strange considering I am a PC tech and fix computers and even build websites. I ignored the first virtual event, just shrugging it off as a novelty. Well when this called "Hold the Line" one came around I jumped in with all four limbs. I created a Zoom account and played a few games with my friends that they hosted, well I was hooked.
---
Image Clarity Is Poor
One thing that bothered me though was the clarity of the video images I was watching. I guess a lot of people use the camera built into their laptops. I wasn't happy with those so I started researching webcams and wound up buying a pair of Razer Kiyp Webcams. I will present a separate Blog post next week with my findings.
So I stepped up and committed to run three events. Two were 15mm WWII using my new rules D-Day to Berlin. Those events were both the same game. Breakthrough to Bastogne. The cool thing was the first game ended at the night time turn of day one. The second game I ran had the game pickup in the morning and play game two. Great games with six players each. Russ Lockwood has done a very in depth review of DDtB as he played. I will post that soon as well.
I also ran a 40mm American Revolution Game of the battle of Guilford Courthouse. I mostly use miniatures from Old Glory and Sash and Saber. Great figures at an affordable price AND made in America 🙂 If you deal with them please tell them Chris Parker sent you, Russ has been helping me with my "Helen of Toy project".
For the rules I aptly used the game of the same name as the convention, "Hold The Line". This was a hexed board game but I had a cloth with 5″ hexes. This was left over from my Memoir 44 days.
While we played the game I taped it. I have now uploaded it onto YouTube. I must warn you the video is about 90 minutes long. I find it fascinating to watch. We had 5 players and i ran one camera on each side. I doubt if many will watch it I will present the link here.
The Battle of Guilford Courthouse YouTube Link
---
Watch the Video and get a free gift
Without cheating anybody that emails me back the last unit to be destroyed in the game will get a free digital copy of my original Medieval Wargame Rules Knighthood.
You can reply to ddtb@chrisparkergames.com
Let me wrap this up by saying that I liked this Zoom virtual gaming so much that this weekend my Brother Dave who lives in Florida and my good friend Mark who lives in Manchester NH are going to play a game of American Revolution using my Light Bobs rules. I am thinking I will play out one of the two flank attacks at Guilford Courthouse. I will be sure to record it in full and post it along with a Blog update.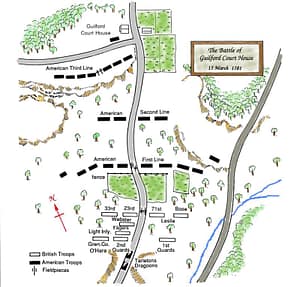 Image Credit Below
By User:Richard Harvey – self, CC BY 2.5, https://commons.wikimedia.org/w/index.php?curid=1164510
---
Sixth Panzer Armee – D-Day to Berlin Scenario released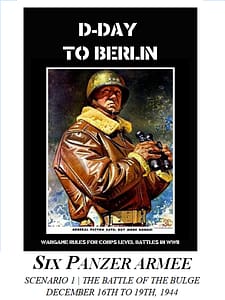 I have released my first scenario for D-Day to Berlin. The scenario is titled "Six Panzer Armee" and it covers the northern attack of the Germans during the Battle of the Bulge.
This scenario includes
Customized Map
Order of Battle for both Allied and German forces
Special rules for the scenario
New rules for D-Day to Berlin
Have look at the Introduction Page
What I found fascinating about this part of the Battle of the Bulge was the majority of the armored Divisions were in this Army Group, yet none of them took part in the first day assault. The majority of the troops will hastily raised Volksgrenadiers. Furthermore the Germans mustered together 50 Stuka dive bombers. Wow.
The opening day saw 2 Allied Divisions face off against 5 German Divisions. An amazing fight. I based my idea from a game by Victory Point Games called "Paul Koenigs: 6th Panzer Army". I chose to use the German spelling of the army which was the Sixth Panzer Armee.
Here is a link to a review of the game on the Boadgame Geek Website
Here is a link to the Introduction page.
Here is a link for more information on the scenario and how to order.
---
Well in closing I hope you all found some interesting bits in this Blog post. Though I am promoting my rules I also try to provide you some useful information and a little humor.
Naturally if you received this in your e-mail box you can safely unsubscribe by clicking on the proper button. I use Mail Chimp for my e-mail and they have a secure method for unsubscribing.
But I hope you won't 🙂
Take care for now and be safe.
Chris Parker
Hits: 154